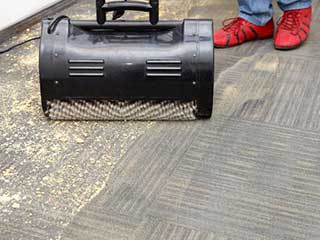 If you are thinking of getting dry carpet cleaning services, there are a few things you need to remember. You can't just go to the nearest service provider to schedule the job order. There are things you need to consider and be clear with, especially when it comes to the suitability of a dry method for your cleaning needs.
The Nature of Dry Cleaning
Before discussing the specific instances when dry cleaning can be considered applicable, it is important to properly get acquainted with the nature of dry cleaning for carpets. Most importantly, it is important to understand that this cleaning method is limitedly applicable. It can't be used on carpets mired with tough stains and unbearable odors. It is not capable of doing adequate pet stain & odor removal. It is not a method that can do any kind of flood damage restoration. While it may suffice as an option for regular rug cleaning, it cannot properly handle instances where molds and mildew are already involved.
Dry carpet cleaning involves the use of special equipment and cleaning agents that minimize the amount of water or moisture left on the carpets. It is intended for quick cleaning and drying. Dry cleaning can be undertaken through the use of absorbent dry cleaning compounds, encapsulation or the use of a substance that attracts dirt and soil particles for easier removal, the round buffer or bonnet method, and the solvent extraction method.
If you are unfamiliar with these methods, you have to properly get acquainted with them. Our experts in carpet cleaning Hacienda Heights can properly orient you with the different dry cleaning methods you can choose from. It is important to know these different methods, to learn about their distinctive applications, to find out which could be the most suitable option. Carpet cleaners often don't do any pre-evaluation before they do the actual cleaning is done. You might end up requesting for an inadequate cleaning service.